How much do you know about CPFR? If you've never heard of it, have a quick read through this post and you'll understand the basics of CPFR in the supply chain profession. CPFR is the acronym for collaborative planning, forecasting and replenishment, a practice developed to reduce supply chain costs through collaboration among what may be many partners in a single supply chain.
Origins of CPFR in Supply Chain
CPFR is no vague or loose concept with a fancy name. It was in fact developed by The Voluntary Interindustry Commerce Solutions (VICS) Association, which created a framework and set of guidelines for conducting CPFR in supply chains.
Since emerging, CPFR has been adopted cautiously by some organisations and more wholeheartedly by others. For example, home appliance giant Whirlpool adopted CPFR for its supply chain and enjoyed immense success. Before CPFR was adopted, Whirlpool was struggling with a forecast error rate of 70%, which reduced to 11% after the company and its supply chain partners began working together under the CPFR framework.
The Four Phases of CPFR in Supply Chain Collaboration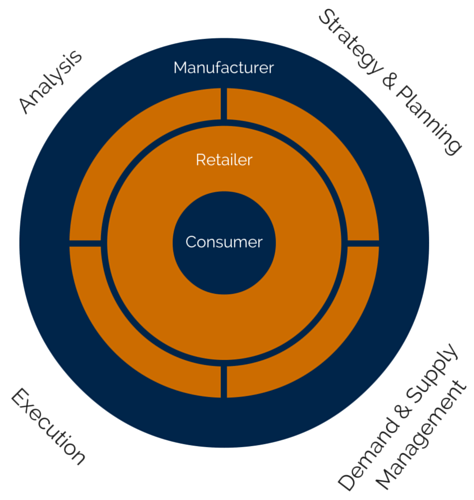 There are four key elements to practicing CPFR in supply chain operations. These can be briefly described as follows:
Strategy and Planning: This phase involves laying down the strategy for collaborative relationships between supply chain partners. The idea is that all organisations involved in partnership share an agreed scope of collaboration, common business goals. Roles, responsibilities and procedures are also set out in the strategy and planning phase.
Demand and Supply Management: This is the element which focuses on sales and order forecasting and the planning of orders.
Execution: This is the phase concerned with the processes of producing, stocking, dispatching, and delivery of materials to end-customers.
Analysis: This element comprises the management of exceptions in the fulfillment process, along with assessment of supply chain performance.
The Benefits of CPFR
Initiating a supply chain CPFR program is not without challenges. The companies involved must be prepared to work on cultural change and alignment, agree rules around confidentiality, and secure buy-in from senior management teams. However, when the adoption of CPFR in a supply chain is successful, there are a number of key benefits, which include:
Improved accuracy of sales and order forecasts
Reductions in inventory levels
Closer relationships among the supply chain partners
Reduced supply chain uncertainty
Realisation of supply chain cost reductions
More effective mitigation of supply chain risks
Release of working capital for partners in the agreement
Improved flow of materials and information up and down the supply chain
Greater efficiency in production and manufacturing
When CPFR partners are able to collaborate effectively and align on the use of technology, the model can also facilitate improved system integration and simplify business processes, for example by eliminating manual process steps.
Everyone Wins When CPFR is Effective
When CPFR is effectively adopted and managed, win-win opportunities abound. The customer at the end of the supply chain benefits from improved service levels and product availability, so ultimately, everyone is happy.
CPFR can be a great help in improving perfect order performance and garnering customer loyalty. You can learn more about perfect order and customer service in Supply Chain Secrets, my book of practical tips for saving money in supply chain operations.
If you'd like to preview Supply Chain Secrets, along with other supply chain books that I've authored, you can see an overview of each title by visiting the Book Store on this website.