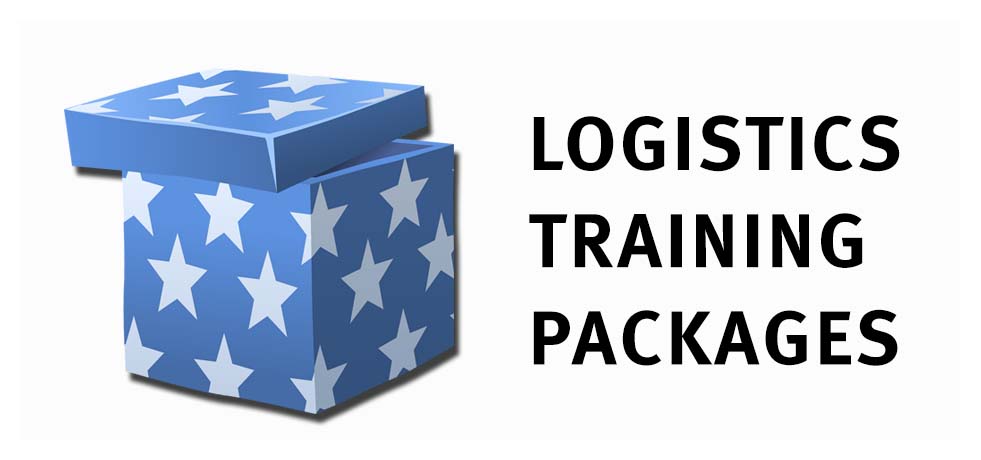 Are you responsible for the provision of training in your supply chain or logistics organisation? If so, and yours is like many companies, packaged logistics training from education providers may well be your preferred option, rather than developing resource-intensive internal training programs.
---
As you're probably aware, there's no shortage of companies and organisations offering packaged logistics training, but choosing the right providers and programs can be tricky.
---
Every service provider has its own view on what constitutes effective logistics training, and each will have an opinion on the best techniques to educate staff at different levels and in different roles. So how should you identify and select the right logistics training package for your company?
It's All in the Delivery
In this post, we aim to help you select the right training packages by explaining some of the pros and cons of different education delivery methods. We'll discuss the following forms of training, any of which may be offered as part of an externally delivered training package:
Practical logistics training
Theoretical logistics education
Online supply chain and logistics training
The use of case studies to share knowledge from real-world situations
Each of these methods offers its own value as part of a packaged logistics training solution. The most important thing though, is to match methods closely to the needs of your company and the business roles of your prospective trainees.
Choosing packages and providers is easier when you understand the specific benefits and limitations of different training methods. So let's begin with a look at practical education as an element of packaged logistics training.
Practical Supply Chain and Logistics Training
Practical logistics training can probably be broken down into a couple of broad categories. First, there's the real hands-on form of training, which places the trainee into real-world or simulated situations. Then there is a form of practical training which in our company, we like to call "pragmatic training":
Pragmatic training: This type of training is more likely to be carried out in the classroom than in a real-world environment, and is designed to help logistics professionals learn how to manage and execute various elements of an operation, without going too deeply into the theoretical side of things.
This type of training is ideal for people who want to take an educational "fast-track" and for companies that want their staff to absorb practical knowledge quickly, and be able to apply that knowledge in that workplace as soon as it's acquired.
Pragmatic logistics training is fast and flexible, and can be delivered online as well as in the classroom. It makes use of case studies, written training material, and presentations or seminars, usually architected and delivered by professionals who've worked for many years in supply chain and logistics operations.
Hands-on training: As practical training mostly requires a hands-on approach, it's less likely to be included in general packaged logistics training products. It is however, highly valuable in developing manual skills, such as when training warehouse operatives, fork-truck operators and other staff who must use specialised equipment to perform logistics roles.
Of course practical training has its uses in every area of supply chain education, and can be used to get employees up to speed quickly in the use of business software, hardware, and specific business processes, so wherever possible, you should look for opportunities to integrate it into your logistics training/education programs.
Theoretical Logistics Training
While practical and pragmatic education is necessary to ensure knowledge is quickly translated into applicable skills, no packaged logistics training program is complete if it doesn't help your managers and workforce to understand why things are done a certain way. Theoretical training bridges the gap between the "how" and the "why" of any new skill, qualification, or ability.
---
Practical training equips people with skills and the ability to apply them. Theoretical training gives them the wisdom to use those skills to best effect, and to adapt to different situational circumstances.
---
It's difficult, if not impossible to provide practical training for every scenario in a given discipline or process, so theoretical understanding helps managers and employees to help themselves when faced with situations not covered by hands-on or pragmatic logistics training.
Online Logistics Training and its Benefits
So far we've discussed how theoretical and practical/pragmatic logistics training methods complement one another, and how important both methodologies are in packaged logistics training programs.
---
Let's move on now, to take a brief look at a method of training delivery that's becoming increasingly popular with education vendors and customers alike.
---
Online logistics training can be used to provide theoretical knowledge and to develop skills and abilities using a pragmatic (and sometimes even practical) approach. As part of a packaged logistics training solution, online training has a number of important advantages over instructor-led training in the classroom or workplace. These benefits include:
Flexibility: Online training has no dependency on trainer/trainee availability, since there are no physical training sessions. Employees can learn wherever and whenever they wish.
Low expenditure: Instructor-led logistics training inevitably incurs travel and perhaps accommodation expenses for trainers and/or trainees. Online training eliminates these expenses, since trainees can learn in the workplace, at home, or wherever else they happen to be, as long as they have Internet access.
Reduced administration: Online logistics training requires but minimal coordination and administration. Enrolment and communication is simple and in many cases, automated.
Easy to scale: With no limitations on the number of trainees that can be accommodated, or their locations, online logistics training can be offered to one or one thousand employees, subject only to the costs of accessing the training package.
Since online training can be delivered using a number of different media types, almost anyone can use it to gain targeted knowledge and skills. Along with the other benefits described above, this makes it pretty much an essential element of any packaged logistics training program.
The Use of Case Studies in Packaged Logistics Training
Regardless of whether you choose a training program using online delivery or not (although as already mentioned, it is to be recommended), you'll find that training packages comprise many different techniques to help your employees learn the material.
---
One such technique is case-based learning, which uses case studies to illustrate concepts and transpose them into to real-world logistics scenarios.
---
Using this technique, a business case or scenario is typically presented to trainees initially without disclosure of the solutions. In other words, trainees are briefed on a specific situation or problem, and asked to explore potential solutions based on whatever concepts are being studied.
---
This type of case-based learning usually takes place in a group environment and is instructor-led or facilitated, so will normally require trainees to come together in a classroom or at a workshop event.
---
However, case studies can also be used online as the basis for scheduled webinars or conference sessions. Even when they are not used as interactive training tools, real-world case studies are useful to highlight how theoretical concepts can be practically applied to the resolution of logistics issues and problems.
Look for Balance in Packaged Logistics Training
While there's no such thing as a one-size-fits-all solution when it comes to packaged logistics training, the best providers will at least offer packages with a balanced mix of theoretical, practical, and pragmatic education. They will also combine the accessibility of online training with the personal interactivity of real-world events such as seminars, workshops, and other group-learning events.
---
However well-balanced a training program or package might be though, seldom will it suffice to educate everyone in your logistics-related business functions.

That's something which as a logistics training provider, we've discovered in the course of our business journey. Hence we've developed a range of training programs and materials, including the ever-popular Supply Chain Leaders Academy, a fast-track program combining all the training methods mentioned in this post.
To learn more about Supply Chain Leaders Academy, please stop by at the website and take a look around. You might also like to take a look at Our Supply Chain Secrets, especially if you need an online training program to supplement existing on-site or classroom-based logistics education.